Pour résumer...
Que c'est bon de voir du beau !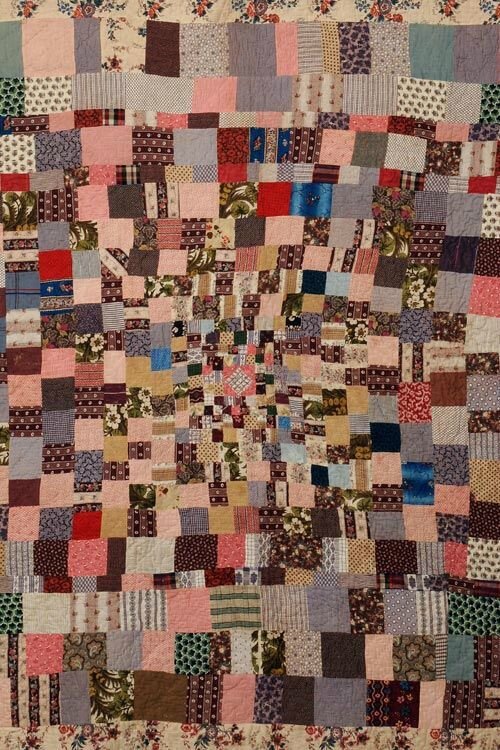 The collection of quilts and patchwork at Amgueddfa Cymru contains examples of bedcovers from the eighteenth to the twentieth centuries, together with smaller items such as cushion covers, linings from christening baskets, eighteenth-century petticoats and a christening gown worn by Peter Morgan of Golden Grove in 1722.
The quilt collection at the Museum dates back to the 1930s. Although a few examples of quilts had been donated to the Museum in 1914, no systematic collecting had been undertaken prior to the establishment of the Department of Folk Culture and Industries in 1932.
The quilting revival of the late 1920s and 30s, and the work of researcher Mavis FitzRandolph for the Rural Industries Bureau in Wales, caused a new awareness of the quality and workmanship of the old quilts and patchwork coverlets that existed in Welsh homes. Some of the best specimens in the collection were acquired during this pre-war period. A number of these are coverlets made from plain fabric on which the decoration is formed entirely of patterns in running stitch, usually designed at the quilting frame by the housewife or professional quilter. However, although the tradition of wholecloth quilting was very strong in Wales, many superb examples of patchwork have also been collected from Welsh sources. There are quilts in the collection from almost every part of Wales, though the tradition seems to have been particularly strong in the western counties of Carmarthenshire and Ceredigion. The quilting revival of the twenties, however, was almost entirely based in the industrial valleys of south Wales.
Unfortunately, a shortage of materials and wartime rationing caused quilting as a cottage industry to all but disappear in Wales, and the Museum was in the vanguard of those who tried to revive the industry. The Museum held a quilting conference and exhibition in 1950-1. Although the collection was enhanced as a result of the interest shown in this exhibition, no real revival of quilting as an industry resulted.
The interest in quilting and patchwork that now exists arose during the 1970s under the strong influence of a very lively tradition in the United States, and encouraged by the formation of the Quilter's Guild in Britain. This resulted in quilts and particularly patchwork being made in large numbers once more, though the craft is practised as a leisure activity rather than a craft industry. However, British, and especially Welsh, quilters are now turning more and more to the old Welsh quilts for inspiration and trying to re-establish the Welsh quilting tradition instead of following the north American patchwork tradition.
The simple quilts on the beds in the re-erected buildings at St. Fagans: National History Museum are true examples of a folk art, items produced by Welsh women for their own use and pleasure.
le lien : http://www.museumwales.ac.uk/ puis : the quilt collection